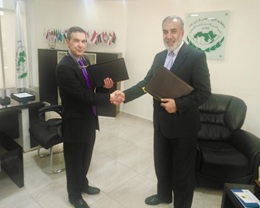 The Statistical, Economic and Social Research and Training Centre for Islamic Countries (SESRIC) signed a Memorandum of Understanding (MoU) with the Arab Institute for Training and Research in Statistics (AITRS) to initiate and facilitate collaboration and cooperation between two institutions in the area of statistics.
The MoU was signed by H.E. Ambassador Musa KULAKLIKAYA, Director General of SESRIC, and Dr. Abdelaziz MAALMI, Director General of AITRS, on 30 April 2018 in Amman, Hashemite Kingdom of Jordan.
The MoU will help the two institutions to share knowledge, ideas, action plans and lessons learned; planning joint activities in areas of common interest; pooling efforts and expertise; utilizing and leveraging their existing resources and facilities to mutual advantage and benefit; collaborating on the promotion, preparation and organization of workshops/conferences/training seminars; and collaborating on the organization and execution of research.
Photos