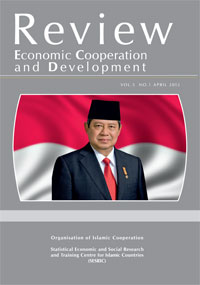 The present issue of the Economic Cooperation and Development Review includes an interview with H.E. Dr. H. Susilo Bambang Yudhoyono, President of Republic of Indonesia. The interview focused on the views of H.E. the President on various national, regional and global issues such as the role of Indonesia, as one of the 30 founding Member States of the OIC, in promoting and fostering economic cooperation and development at the OIC level and the role and performance of the OIC as the collective voice of the Muslim world considering the current global and regional geopolitical and economic challenges.
This issue of the Economic Cooperation and Development Review also includes articles by Mr. Robert B. Zoellick, the President of the World Bank Group, and Mr. Juan Somavia, Director-General of the United Nations International Labour Organization (ILO).
In his article titled "Why we Still Need the World Bank: Looking Beyond Aid", Mr. Zoellick presents his views on the role of the World Bank over the last six decades as a part of the Bretton Woods multilateral system, particularly as an international developmental institution covering monetary and currency issues, trade, investment, development, and the reconstruction of broken states. He emphasises that although the current international economic architecture conditions are vastly different, the challenges of dealing with the causes of the global financial breakdown remained similar to those in 1930s.
On the other hand, in his article titled "Decent Work for Social Justice and Sustainable Development", Mr. Somavia argues that the prevailing model of globalization widened income inequality and amplified a global jobs crisis. In the light of this argument, Mr. Somavia presents his views on the concept of 'decent work' as an essential approach and integral component of social justice and sustainable development. He underlines some building blocks for a globalization with social justice through the realization of decent work for all, including employment promotion, extension of social protection, respect for fundamental rights at work, and freedom from discrimination, forced labour and child labour.
In addition to these two articles, SESRIC also contribute with three recent reports, namely: (1) Explaining Income Disparity among the OIC Member Countries; (2) OIC Countries and Natural Disasters: Assessment of Risks; and (3) Assessment of Sustainability and Insolvency of the External Debt in OIC Countries.
Online Electronic Version
Economic Cooperation and Development Review Vol.5 No.1 (English)